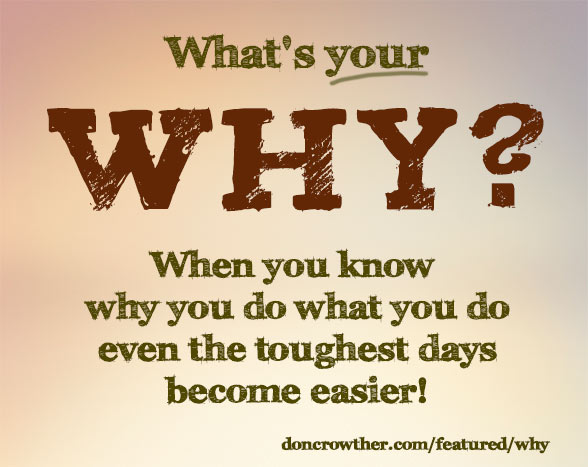 (Image Source: http://doncrowther.com/wp-content/uploads/WhatsYourWhy.jpg)
"Where there is a will, there is a way"
Haven't we all heard this phrase while growing up? I have read and listened to so many stories emphasizing on how 'will power' can lead you to success. And I agree that it is a 'must' ingredient for any success recipe. However, it is much recent that I heard about the concept of 'WHY' power and it undoubtedly, blew my mind away!
Will power means the determination to do something. Whenever we envision a goal, it is our 'will power' that gets us started. But, what takes us till the end of accomplishment of that goal is the 'why' power. 'Why' is what keeps you going through the journey. So it certainly is important to understand what exactly it is!
Let us take an example of two persons A and B who want to quit smoking. Both know it is not good for their health. But B has another reason to stop smoking. He has a baby at home who is at risk of asthma because of passive smoking. He knows if he doesn't stop, he might endanger his own child's life. So, whom do you think is actually going to quit smoking permanently. Whose WHY is stronger than the other? B, correct?
Most of the people know WHAT they want to do in life and it is quite easy to figure out HOW they can do it but if they do not know WHY they are doing it, they are bound to fail sooner or later. HOWs are just the steps but WHY is the purpose. It is only if one has a strong enough WHY, will they do their best and be the number one in their field. One must know his purpose, only then can he be life time committed to what he is doing.
There are two most important days in everyone's life – one, the day they were born and the second, the day they know WHY!